Synergy of fine dining and historical surroundings
Seasonal menu
A first-class menu of seasonal and micro-seasonal dishes prepared by Chef Igor Jagodic and his team with his signature style and using top-quality, local ingredients.
Visit our restaurant and try the delicious creations.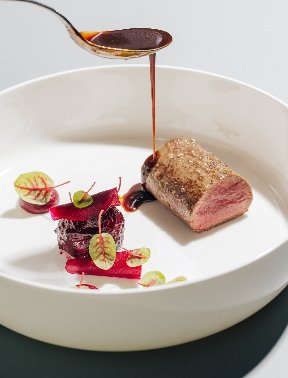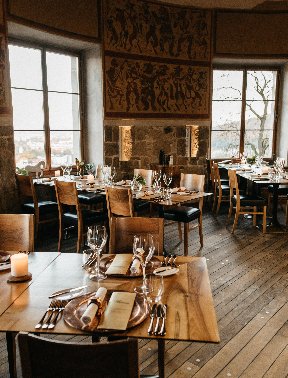 Book a table
Our award-winning restaurant is located in one of Ljubljana's most charming landmarks, the picturesque Archer's tower of the Ljubljana castle, and boasts the prestige Michelin's "The Plate" symbol as well as a commendable total of 17 points awarded by the restaurant guide Gault-Millau for the third year running.
Book a table and enjoy a fine dining experience with a spectacular view.
Book now
"The Strelec restaurant combines fine dining with a unique and cozy ambiance to produce a timeless delight"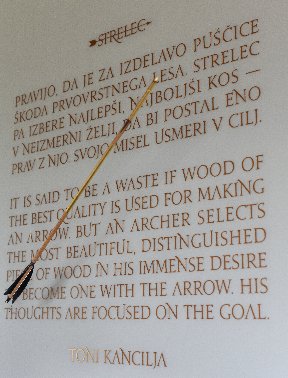 Our story
Enter the hallways of the round Archer's tower, whose energy, along with its cuisine, is steeped in the past and adorned with images derived from Slovenian folklore and a breathtaking view of Ljubljana.
Our chef
With his signature style, our chef Igor Jagodic has been developing flavour combinations that have been delighting the guests at the Strelec restaurant since the end of 2012.
In addition to his many culinary awards and achievements, Chef Jagodic is known for his warm and personable nature and generously shares his knowledge with absolutely anyone who walks into his kitchen.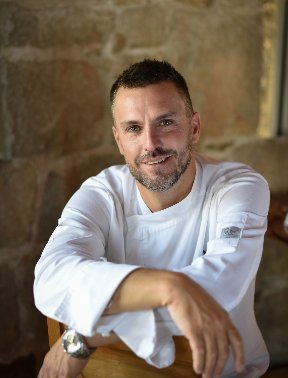 "Strelec is not just a place, it's a concept. Its meaning is derived from the excellent staff and the guests' desire to experience something more."
Grajska planota 1, 1000 Ljubljana
Monday - Friday
17.00 - 22.00
Saturday
12.00 - 22.00
Sunday & holidays
closed
Strelec restaurant can additionally operate for advance announced groups and by prior arrangement.